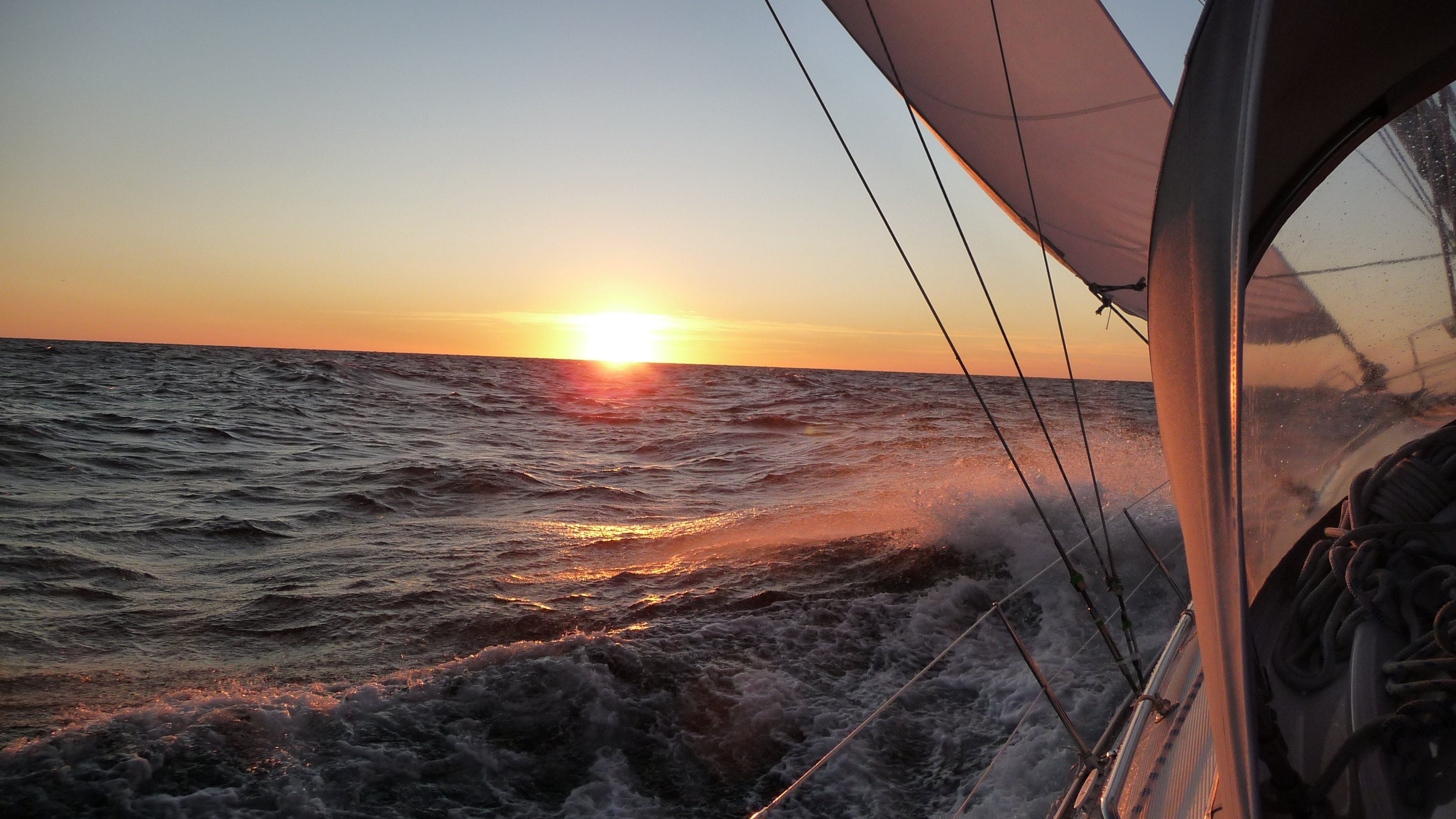 Sailing Trimaran Trinity
"Twenty years from now you will be more disappointed by the things you didn't do than by the ones you did do. So throw off the bowlines. Sail away from the safe harbor. Catch the trade winds in your sails. Explore. Dream. Discover." Mark Twain

"In zwanzig Jahren wirst Du mehr enttäuscht sein über die Dinge die Du nicht getan hast, als über die Dinge, die Du getan hast. Also wirf die Leinen los.
Verlasse den sicheren Hafen. Lass den Passatwind in Deine Segel wehen.
Erforsche. Träume. Entdecke." Mark Twain
= Baltics Northern Denmark 10/2011 sailing into the night
Our dream bluewater cruising became concrete 02/2020 with the delivery of our new Trimaran NEEL 47 in La Rochelle. Our 4 children are now out of school and the active working life is history. We are exited living on our TRINITY. Due to CORONA we had to spend 3 additional month in La Rochelle and finally started our adventure crossing the Biscaya in July 2020. Trinity is our first own boat, because until now we were busy to charter all kinds of boats to evaluate what suits us best.

Unser Traum vom Blauwassersegeln ist mit der Lieferung unseres neuen Trimaran NEEL 47 in La Rochelle 02/2020 realisiert. Unsere 4 Kinder aus der Schule und das Arbeitsleben hinter sich - genießen wir das Leben auf unserer TRINITY . Wegen CORONA hat sich unser Aufenthalt in La Rochelle um 3 Monate verlängert, so dass unser Abenteuer mit der Überquerung der Biscaya im Juli 2020 begann.
Trinity ist unser erstes eigenes Boot. Um die richtige Kaufentscheidung zu treffen haben wir in den letzten Jahren alle möglichen Bootstypen gechartert.

We used the time in La Rochelle to get modifications done and bugs eliminated to get started with serious sailing . Due to CORONA we cancelled our plan to cross the Atlantic in November 2020 with the ARC+. Plan B was to spend the winter in the Canary Islands, but because of the drastic increase of Corona cases and all the restrictions coming with it we decided short notice to spend the winter in Ponta Delgada (Sao Miguel / Acores) which we did not regret at all. Later we also visited Santa Maria, Faial, Pico , Sao Jorge, Graciosa and Terceira. Flores and Corvo had no marina available and anchorage is limited or restricted, so unfortunately we could not visit them.
In September 2021 our kids joined us to sail via Madeira and La Palma (right at the vulcan eruption) to Lanzarote /Canary Islands to renew the antifouling and anodes in the shipyard to be prepared for the Atlantic crossing December 1st 2021 via Cabo Verde were we arrived December 8th in Mindelo. December 13th we departed and arrived in Martinique after 2 weeks where several warranty repairs were executed. We enjoyed visiting Guadeloupe, Dominica, Antigua, Barbuda, St. Barth and St. Martin without any Corona testing. Due to the unclear Corona situation we did not pass the Panama channel in 2022 and left the Caribbean May 7th 2022 to arrive in Horta/Acores May 24th. Most of the summer and fall ´22 we enjoyed as a couple or with visiting family futher exploring the Acores again, Madeira, La Gomera and Lanzarote. In November we hauled out TRINITY for a new antifouling to be ready in December for the third Atlantic crossing to Martinique. On the way to the Panama channel we visited Bonaire and Cartagena (Columbia) and the beautiful San Blas Islands. After crossing the Panama channel we celebrated carneval in Panama City before we got stuck at the Las Perlas Islands without wind to go to Galapagos. Despite all the formalities we enjoyed a week at San Christobal and sailed with a broken main halyard and water in the saildrive oil 2 of 3 weeks to Fatu-Hiva (French Polynesia). We intent to explore some more of the Marquesas before we cross the Tuamotus on the way to Tahihit to get TRINITY hauled and the saildrive sealings repaired 05/23.

Die Zeit in La Rochelle nutzten wir für Modifikationen und Fehlerbeseitigungen am Trimaran. Wegen Corona hatten wir unsere Atlantiküberquerung 11/2020 mit der ARC+ abgesagt. Plan B war auf den Kanaren zu überwintern, jedoch wegen den stark gestiegenen Coronainfektionen und den einhergehenden erheblichen Einschränkungen überwinterten wir dann doch lieber in Ponta Delgada (Sao Miguel / Azoren), was wir in keinster Weise bereut haben. Santa Maria, Faial, Pico , Sao Jorge, Graciosa und Terceira besuchten wir anschließend. Flores und Corvo fielen mangels geeigneter Anlaufmöglichkeiten aus der Reiseplanung.
Im September 2021 haben uns unsere Kinder zur Überfahrt auf die Kanaran über Madeira begleitet. Zufällig sind wir pünktlich zum Vulkanausbruch auf La Palma angekommen und konnten das atemberaubende Drama miterleben. Auf Lanzarote hatten wir TRINITY in Arrecife aus dem Wasser geholt für einen neuen Antifoulinganstrich sowie neue Anoden. Somit standen wir dann in den Startlöchern für die Atlantiküberquerung in die Karibik über die Cap Verden am ersten Dezember 2021 und erreichten Mindelo am 8. Dezember. Am 13.12. sind wir dann nach Martinique aufgebrochen, wo wir nach 2 Wochen glücklich angekommen sind und einige Garantiereparaturen durchführen konnten. Ganz ohne Corona-Tests konnten wir Guadeloupe, Dominica, Antigua, Barbuda, St. Barth und St. Martin genießen. Aufgrund der ungewissen Coronalage verschoben wir die Panamapassage auf 2023 und segelten von der Karibik am 7. - 24. Mai 2022 zurück auf die Azoren nach Horta. Den Sommer und Herbst ´22 haben wir zu zweit oder mit Familie überwiegend auf diversen Azoreninseln verbracht sowie auf Madeira, La Gomera und Lanzarote. Im November kam TRINITY aus dem Wasser für ein neues Antifouling vor der dritten Atlantiküberquerung im Dezember nach Martinique. Auf dem Weg zum Panamakanal besuchten wir Bonaire, Cartagena (Kolumbien) und die wunderschönen San Blas Inseln. Nach der Passage des Panamakanals feierten wir Karneval in Panama City und saßen anschließen 3 Wochen auf den Las Perlas Inseln fest mangels Windfenster für die Passage nach Galapagos. Trotz der aufwendigen Formalitäten genossen wir San Christobal und segelten 2 der 3 Wochen mit gerissenem Großfall und Wasser im Getriebeöl nach Fatu-Hiva (Französisch Polynesien). Die Marquesas wollen wir noch etwas weiter erkunden bis wir durch die Tuamotus nach Tahiti weitersegeln, wo TRINITY 05/23 gekrant wird und neue Getriebedichtungen bekommt.


The reason for starting sailing-trimaran-trinity.com is to keep family and friends informed as well as cruising-trimaran interested sailors, because we so far did not find much cruising trimaran information in the internet.

Der Grund für sailing-trimaran-trinity.com ist Familie und Freunde am Laufenden zu halten sowie Cruising-Trimaran Interessierte, da wir diesbezüglich wenig im Internet gefunden haben.
Why a Trimaran NEEL 47?
The evolution of experiences….
After having sailed a SIRIUS deck saloon yacht it was obvious to us that we do not want to life in the basement bluewater cruising. So at this time the SIRIUS 40 or the Garcia Exploration 45 were our favourites. The SIRIUS was the best boat we ever sailed regarding the quality of all the handcraft and solid hull, massive stainless steel and smart room design -not to compare with anything we saw elsewhere. But in stormy conditions and at anchor still rolling like every monohull - but our choice if we would stay in the Baltics / North sea with kimm keels. The Nauticat and Nordship had been eliminated from serious consideration due to oldfashioned design and MOODY due to the most arrogant sales people at the BOOT in Düsseldorf I ever experienced - if you wear casual instead of formal business. Jimmy Cornells Garcia 45 has all you need for exploring the world with hardly any restriction, but failed for us because with 188 cm I am too tall and can not stand upright in the saloon… and the Garcia Exploration 51/52 is out of budget for us. Having sailed the catamaran Fontaine Pajot Helia 44 with 10 persons we were impressed by the comfort and space - but the sailing performance was of course limited - even if you consider a significant bonus to the overload and poor quality of worn charter sails. The performace catamaran Catana 47 with daggerboards did of course better , but with the steering wheels all the way in the back the visibility is blocked by the saloon and very poor. The catamaran Outremer 51 had with the NEEL 45 by far the best sailing performance, but I frequently hit my head and the overall space available is significantly lower than offered by the Helia 44. The Outremer 5X with 60 foot would provide space and performance - our first choice , if there would be no budget limits. At this point we got frustrated, because we thougt we would have to decide between comfort or performance. Thanks God we chartered such a new exotic Trimaran NEEL 45. Against the wind we always made comparable angles as monohulls, but a lot faster. Most of the time we made true wind speed. Very impressing at 5 kn - all other sailers got their sails down and motored - and we sailed with 5 kn true speed over ground :-). That was extremely convincing. Having started our boat analysis with the attitude of the need for a most massive boat that can deal with any storm and big fuel tanks for almost unlimited reach we now believe that we rather go for a fast boat where you can easily escape stormy conditions and with the ability to sail with very little wind you actually do not need real big fuel tanks and not a generator either, if you can put almost 2440 W solar panels on your saloon roof. The limitation of the NEEL not being suitable for ice regions is acceptabe - too cold for us anyhow.



Warum ein NEEL 47 Trimaran?
Die jahrelange Charter-Meinungsbildung
Nachdem wir eine SIRIUS Decksalon gesegelt sind, war uns die Vorstellung für unseren Blauwasser-Traum wieder in den Keller zu ziehen absurd geworden. Die Sirius war mit Abstand das Boot mit der besten Qualität was Rumpf, Holzausbau, Edelstahl und Raumaufteilung angeht. Allerdings rollt sie bei schwerem Wetter und vor Anker eben wie jeder Einrümpfer. Würden wir in der Ost-/Nordsee bleiben, wäre eine Sirius 40 mit Kimm-Kiel erste Wahl. Wenn auch sehr solide - sind doch Nauticat und Nordship schnell wegen veraltetem Design aus dem Rennen gewesen und MOODY wegen den arrogantesten Verkäufern (Boot Düsseldorf), die ich je erlebt habe - dort sollte man wohl im Anzug aufschlagen. Jimmy Cornells Garcia Exploration 45 lässt eigentlich gar keine Blauwassersegler-Wünsche unberücksichtigt - aber ich kann eben mit 1,88 m nicht aufrecht im Salon stehen - ein No-Go. Und die Garcia 51/52 sprengt unser Budget. Nachdem wir den ersten Katamaran, eine Fountaine Pajot Helia 44, gechartert haben, waren wir trotz 10 Personen an Bord von dem üppigen Raumangebot und Komfort überrascht. Allerdings waren die Segelleistungen mittelmäßig, auch wenn man einen Bonus für das Zusatzgewicht und die alten Segel vergibt. Der Katamaran Catana 47 mit Daggerboards hat besser performed, aber total enttäuscht wegen der schlechten Übersicht, da der Salon nach vorne zuviel bei den hinten liegenden Steuerständen verdeckt. Der Katamaran Outremer 51 hatte mit der NEEL 45 die besten Segeleigenschaften. Allerdings habe ich mir permanent den Kopf angeschlagen und das Raumangebot ist bedeutend kleiner als bei einer Helia 44. Unser Traumboot wäre da die 60 Fuß Outremer 5X - wenn keine Budgetlimits bestünden. Wir waren schon etwas frustriert und dachten, wir müssten uns zwischen Komfort oder guter Segelleistung entscheiden. Zum Glück haben wir dann doch noch so einen neuen exotischen Cruising-Trimaran gechartert. Die NEEL 45 ist auf Amwind-kursen meist Windgeschwindigkeit gelaufen mit Wendewinkeln, die Einrümpfern nicht nachstehen. Als der Wind auf 5 kn abfiel und alle die Segel einholten und motorten - liefen wir unter Segel 5 kn über Grund. Da war die Entscheidung gefallen. Komfort und Sportlichkeit sind doch nicht unbezahlbar. Auch haben wir unsere Sichtweise zu Blauwasserboote grundlegend geändert. Dachten wir anfangs grundsolide Stahl- oder Alupanzer, die allen Stürmen standhalten, seien notwendig, so bevorzugen wir heute eher schnelle Boote, mit denen man Stürmen ausweichen kann. Gleiches gilt für früher bevorzugte Riesendieseltanks mit größten Reichweiten. Dann doch lieber ein leichtes Boot, mit dem man bei der leichtesten Brise gut vorankommt. Einen Generator brauchen wir nicht, da wir mit 2440 W Solarleistung auf dem Salondach gut versorgt sind. Für Eisregionen ist die NEEL natürlich nicht gebaut - wäre uns sowieso zu kalt.
Medical Training / Medizin auf See
Medical Training DSV Akademie March 2019:
Medical (radio) officer, first aid, clinical picture & disease pattern, first aid box, suture, cardio pulmonale reanimation, emergency Bandage & first aid dressing, fractures, infusions

Medizin auf See Training DSV Akademie März 2019:
Funkarzt, Erste Hilfe, Krankheitsbilder, Bordapotheke, Wundverschluss, Herz-Lungen-Wiederbelebung / AED, Notverbände, Schock, Knochenbrüche, Infusionen
Security Training / Sicherheitstraining
KYCD marine Center Neustadt/Holstein April 2018:
Firefighting, leakage stopping, pyrotechnical signals, life raft with artifical wafes, hypothermia treatment


KYCD Sicherheitstraining Einsatzausbildungszentrum Schadensabwehr Marine Neustadt/Holstein April 2018:
Brandbekämpfung, Leckabwehr, Pyrotechnische Signale, Wellenbad Rettungswesten & -Insel, Behandlung Unterkühlter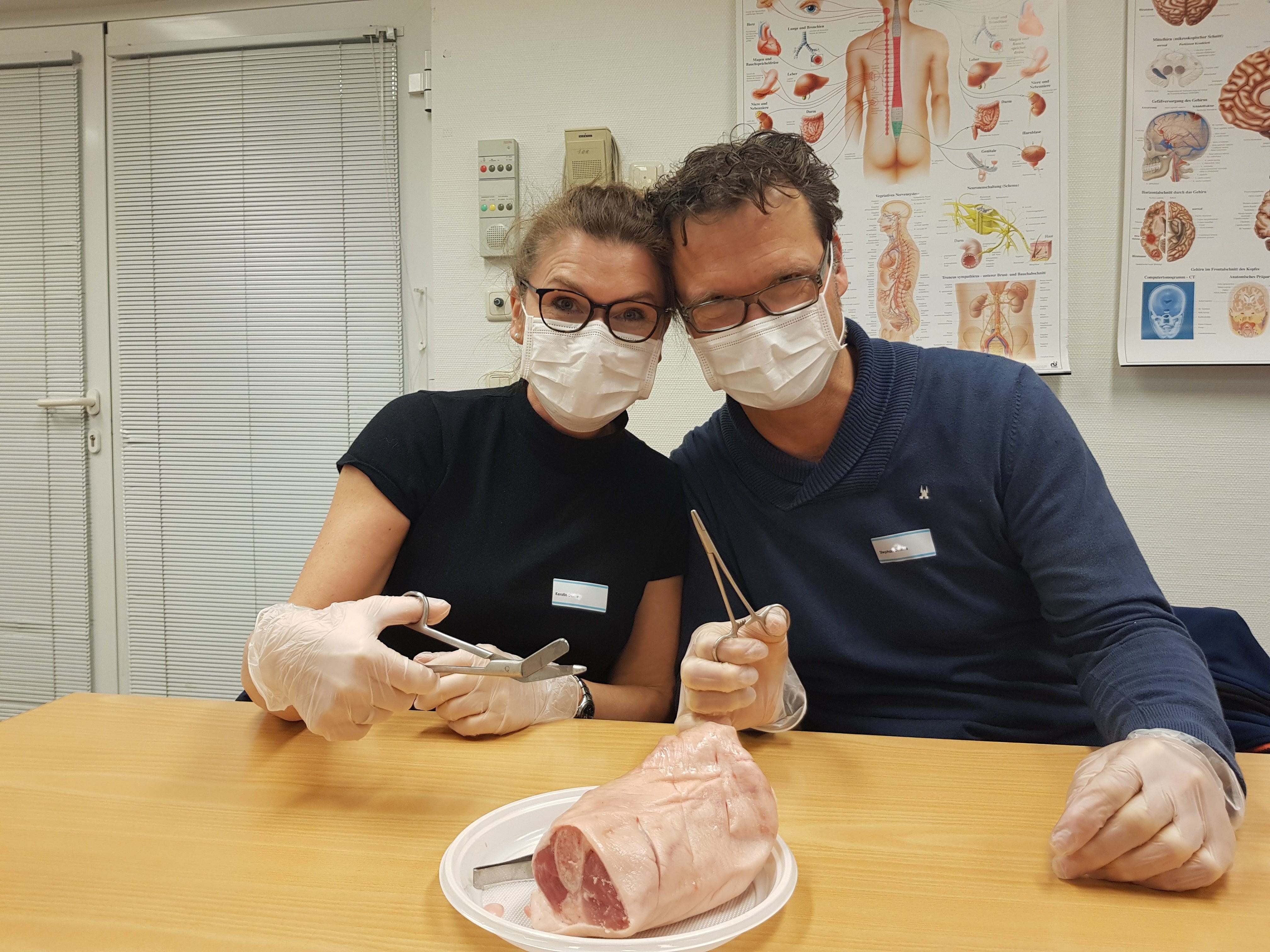 = Dolphins 04/2015 Canaries between La Gomera - El Hierro
2019 Pre-TRINITY Sailing Experience Segelerfahrung
Since 2009 about 10000 nm - 8000 as skipper:
Croatia, Baltic Germany/Denmark/Sweden/Poland, all-around Canary Islands, all-around Leeward Islands Caribic, German North Sea Islands round trip, Ireland-South England-Netherland-Germany, Cote d´Azur France, Caribic round trip BVIs from Leeward Islands


Seit 2009 ca. 10000 sm - davon 8000 als Skipper
Kroatien, Ostsee Deutschland/Dänemark/Schweden/Polen, alle Kanaren, alle Leeward Inseln Karibik, Deutsche Nordseeinseln, Irland-Südengland-Holland-Deutschland, Cote d`Azur Frankreich, BVIs Karibik von Leewards aus und zurück
Boats chartered chronological
Gecharterte Boote
Bavaria 32, Bavaria 36, Bavaria 38, Bavaria 39, Bavaria 40C, Bavaria 36, Elan 434 Impression, Bavaria 45 C*, Bavaria 40C, Bavaria 46C, Bavaria 46C, Bavaria 45C, Bavaria 46C, Sun Odyssey 409, Bavaria 51C, Bavaria 40C, Sun Odysey 441, Oceanis 50, Feeling 39, Bavaria 37C, Sirius 35 DS, Grand Soleil 46.3*, Catamaran Fountaine Pajot Helia 44, Catamaran Outremer 51*, Trimaran NEEL 45, Catamaran Catana 47, Dufour 325, Bavaria 34C, Catamaran Bali 4.0, Bavaria 38C, Bavaria 37C
* = not as skipper
Know-How - Literatur(e)
not local nautical - ohne Revierführer
Jimmy Cornell (by far the best author to me):
200000 Miles, Segelrouten der Welt, World Cruising Destinations, World Voyage Planer, Atlas der Ozeans
Sönke & Judith Roever - Blauwassersegeln kompakt
Rob James - Multihulls Offshore (=Trimaran Expert)
Claudia Kirchberger - Bordversorgung heute
Scott & Wendy Bannerot - The Cruisers Handbook of Fishing
Bobby Schenk - Blauwassersegeln
Meinhard Kohfahl - Medizin auf See
……….
…...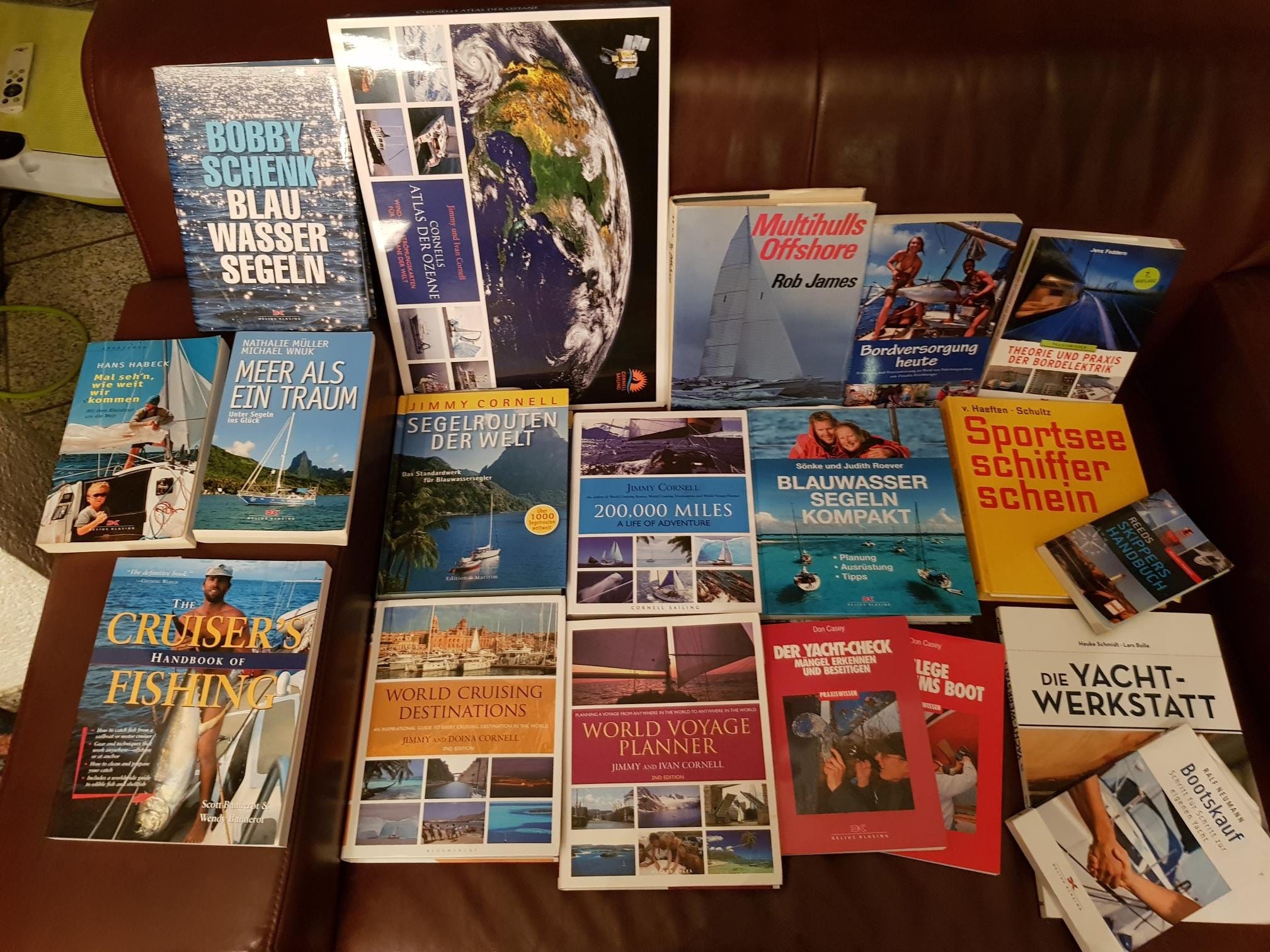 Scuba Diving Flaschentauchen
PADI Open Water & Advanced Open Water Diver & Nitrox certification 2018
Sinai classic scuba dive safari at the "Snefro Love" 10/2018
Red sea North & the Brothers Safari at the "My Blue Planet 1" 10/2019



PADI Open Water & Advanced Open Water Diver & Nitrox Qualifikation 2018
Sinai Classic Tauchsafari auf der "Snefro Love" 10/2018
Rotes Meer Nord & The Brothers Tauchsafari auf der "My Blue Planet 1" 10/2019
2018 - Caribean / Karibik: Leeward Islands & BVI´s


2009 - First Sailing Experience / Erste Segelerfahrung
Croatia - Charter Bavaria 32 without any sailing experience. Sailing know-how just by books and 2 days skipper

Kroatien - Charter Bavaria 32 ohne jegliche Segelerfahrung. Segelwissen nur aus Büchern und 2 Tage einen Skipper genommen.
2010 - Croatia / Kroatien
Sailing becomes our families passion


Segeln wird die Leidenschaft unserer Familie


2011 - Large Belt Denmark / Sweden
Großer Belt Dänemark / Schweden
2015 - Round Canary Islands / Rund Kanaren
Stephan (1967) & Kerstin (1972) Frankfurt/Germany area


Married happy since 1998 - 4 grown up children
We got 2009 to the conclusion after friends suffered strokes of fade that it simply does not make sense to wait for your dreams until retirement and started sailing. We strongly believe in what we read in a Hallberg Rassy brochure some years ago:
"3 things are needed for bluewater cruising: time & money & health. Very most dreamers will never get going because they always blame missing time and money - and when it is available it is too late due to health restrictions...". So let´s get going!

Glücklich verheiratet seit 1998 - 4 erwachsene Kinder
Nach Schicksalsschlägen von Freunden sind wir 2009 zu der Erkenntnis gelangt, dass es keinen Sinn macht seine Träume auf die Rente zu verschieben und begannen zu segeln. Wir glauben absolut an folgende Weisheit, welche wir vor Jahren in einer Hallberg Rassy Broschüre sinngemäß gelesen haben: "Es braucht 3 Dinge zum Blauwassersegeln: Zeit & Geld & Gesundheit. Die allermeisten Träumer legen niemals ab, da sie die fehlende Zeit und das Geld immer für das Verschieben verantwortlich machen und wenn die Zeit dann da wäre, spielt die Gesundheit nicht mehr mit...." Also los geht´s!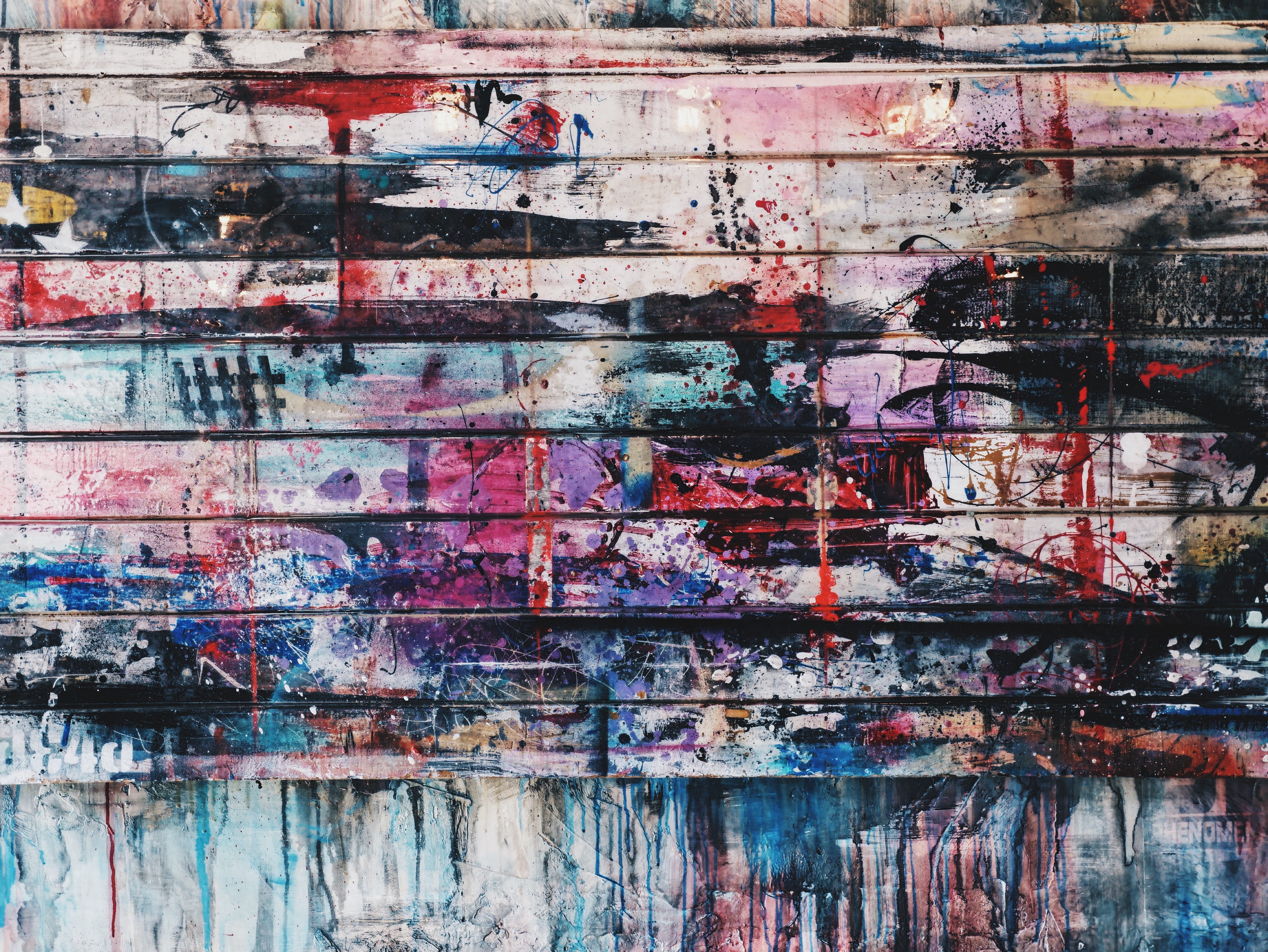 Möchtest du mehr wissen?
Ich freue mich von dir zu hören und helfe dir gerne weiter.